Gas Sensor Testbed – Gas Sensor Test Activities
One important objective during the development of gas sensors systems is the characterization and test of components and devices in laboratory and in the field. The gas sensor testbed allows the characterization of all type of gas sensors towards various target gases (e. g. volatile organic compounds – VOCs, etc.) in the relevant concentrations by using controlled gas mixtures at different temperature (T) and humidity (rH) levels.
Gas Sensor Testbed facts:
Special inner cabinet for gas sensor test applications
Installation and connection of the cabinet with a permeation furnace
Gas supply by permeation tubes
Oven temperature range (heat only) 30-150 °C
Typical concentration of 10 – 100 ppm (2500 cc/min – 250 cc/min)
Permeation tubes for over 500 chemicals available on the market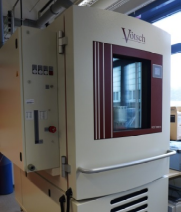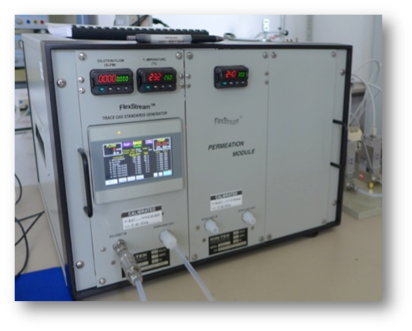 Special Inner Cabinet for Organic Compounds, Permeation Furnace

Gas sensor test chamber specifications
Gas Sensor Testbed – Gas sensor calibration and correlation measurement activities
In order to calibrate gas sensor systems and to perform correlation measurements the gas sensor testbed includes classical sampling methods and standard analytical methods. The sampling could be done in the lab as well as in the field (e.g. inner cities, etc.).
Gas Sensor Testbed facts:
Organics, anions, and cations
Sampling kits for various compounds available
Usable in various areas (e. g. laboratory, inner cities, closed environments, aircraft cabin, etc.)
Utilization of state-of-the-art analytical methods
VOC
Anions and cations
(e. g. acids)
Sampling method

Passive sampling of VOCs
VOCs are being adsorbed by adsorbent tube


Passive sampling tubes

Impinger (e. g. NH3, Chloride, etc.)
Sorbent tubes (H2S, SO2/NO2, etc.)

Sorbent tubes

Analysis done by
Thermodesorption Gaschromatography Mass Spectroscopy (TD-GC MS)

TD-GCMS system at Fraunhofer IISB

Ion Chromatography (IC)

IC at Fraunhofer IISB

Detection Limits
ppb
9 – 50 ppb
CONTACT
For more information, please contact:
https://www.iisb.fraunhofer.de/de/research_areas/technology_manufacturing/contamination_control.html
Markus Pfeffer
Fraunhofer IISB, Erlangen, Germany
Markus.Pfeffer@iisb.fraunhofer.de