Energy Electronic Testbed – Smart Local Energy System for Industry
For the demonstration of sustainable energy generation, storage and supply in the rage of small and medium sized industrial plants (decentral intelligent energy system) a decentral energy system at the Fraunhofer IISB was implemented. This available infrastructure could be used as testbed for various energy electronic applications.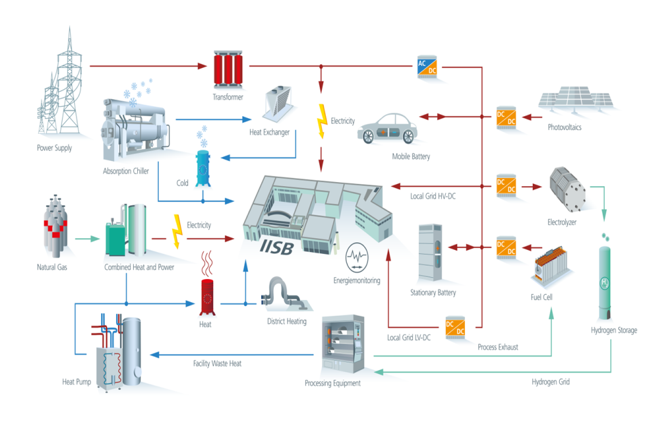 Decentral (local) energy system at Fraunhofer IISB
Topics
Intelligent micro-grid (DC)
Electrical storage for micro grids
Coupling between hydrogen and electricity
Energy grids – grid connectivity based on power electronic systems with high amount of renewable energy
Demand side management and secondary energy storage
Energy production and secondary energy usage
Energy efficiency
Solution – Research and demonstration platform
For linkage of power generation, different types of energy storages and distribution and various energy sensors and energy management systems
Interconnection of different energy sectors (electricity, heat, cold and hydrogen)
Demand site management and peak load shift
DC grids including new power electronics and control
Novel ICT for energy management purposes (IoT-ComBus)
Potential Users
Sensor provider, sensor system provider, etc.
CONTACT
For more information, please contact:
http://www.energy-seeds.org
Markus Pfeffer
Fraunhofer IISB, Erlangen, Germany
Markus.Pfeffer@iisb.fraunhofer.de