SpectroXTM AI powered hyperspectral imagining enabling early stage skin cancer detection
---
FED4SAE partnered with Althexis Solutions LtdTM to develop SpectroX – a digital Dermoscopy solution which enables early stage detection of melanoma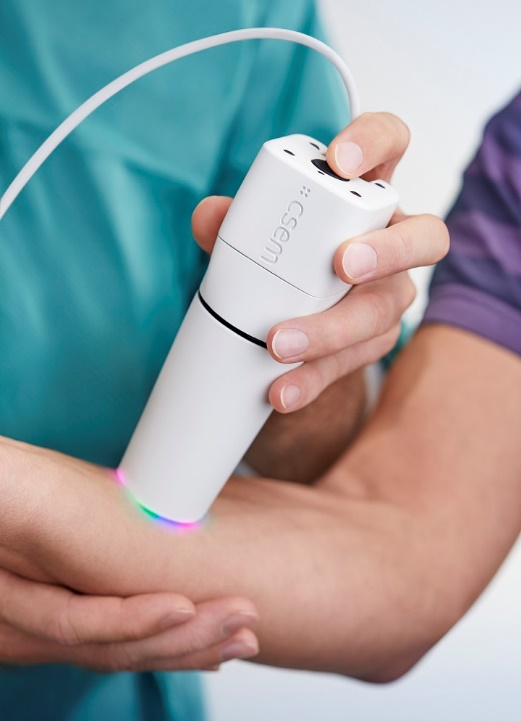 Dermoscopy refers to the examination of the skin using surface microscopy. Althexis Solutions Ltd™ has developed the Next Generation Hyperspectral Dermoscopy System which enables dermatologists to gain insights into the presence of cancerous cell tissue (melanoma) in a patient's skin and boost their productivity through an user-friendly, touch enabled software.
The handheld camera solution has been achieved as a result of exploiting advances in Artificial intelligence with hyperspectral imaging which when tuned to specific wavelengths enables early-stage detection of signals as to the presence of cancerous cell tissue.
As with most, if not all cancers, early detection enables early intervention and treatment resulting in a significant increase in recovery and survival rates [1]. Hyperspectral imaging provides these early signals of melanoma to be detected in advance of them becoming visible to the human eye and this innovation provides a significant competitive advantage over existing RGB image solutions on the global market.
Product Development
The Althexis™ team has developed a full end to end system solution targeting dermatologists clinics providing them with an integrated system that allows them to capture all aspects of patient engagement capturing patient details, electronic patient GDPR consent form through to imaging data capture, classification, diagnosis, treatment if appropriate and any follow up visits thus enabling additional images to be captured and the morphology of the mole traced over time.
Through the application of smart filtering algorithms, hair on the patients' skin can be detected and removed from the image enabling an unobstructed high resolution view of the skin mole.
The SpectroX camera device illuminating a patient's arm and the high resolution hyperspectral image (specific hyperspectral bands and RGB) of the mole is captured and presented in the system, see below pictures.. The data is stored in a secure encrypted Cloud platform enabling easy access to the data.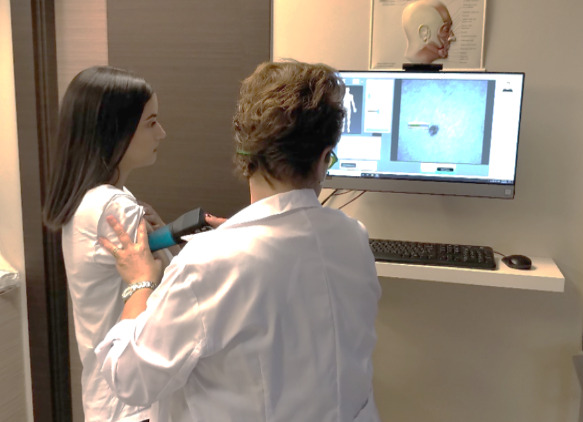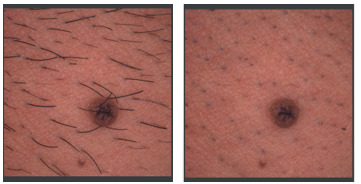 Overcoming the many challenges
Training Artificial intelligence systems generally require large quantities of labelled data and in this case Althexis needed hyperspectral images of melanoma data which just did not exist and so the team prioritized the creation of the hyperspectral camera and getting out to dermatologists to enable them to assist in generating this valuable labelled dataset which Althexis integrated into their existing RGB based Neural Network inference models.
The Althexis team worked with CSEM who provided their deep expertise in hyperspectral imaging and developed a customized hyperspectral Camera Dermoscope which was very successful both in terms of actual performance and durability. The camera worked continuously for large periods of time without any operational issue. The quality of the image was highly appreciated by the Doctors and they also provided feedback that camera housing materials give a feel of a premium medical device.
Collaborating with dermatologists to evaluate and gain their feedback on early prototypes enabled the team to gain valuable insights which were used to fine tune both the handheld camera and the system's graphical user interface thus improving the overall usability of the solution. Other insights as to decontaminate the camera between patients, feedback on image resolution and field of view, consistent lighting to ensure image quality were raised and addressed enabling a more compelling market ready solution to be created.
FED4SAE support and opportunity
FED4SAE provided an excellent opportunity for Althexis to work with CSEM who provided both coaching support, expertise in Hyperspectral imaging and developed the custom Hyperspectral Camera which met the specific needs of Althexis's digital dermoscopy use case.
Althexis evaluated the use of Movidius VPU as an accelerator to offload image classification however they concluded that the performance of an Intel iCore 10 CPU Tablet PC, including AVX-512 DLBoost instructions to accelerate AI inference, provided sufficient compute power without the need for an additional accelerators to do the image classification.
Intel offered to help scale the solution as part of its portfolio of healthcare market solutions and to showcase the solution at its global partner marketing events.
Blumorpho provided business innovation coaching and monitoring.
| | |
| --- | --- |
| | Healthcare |
Althexis™ consists of a team of highly skilled experts in Electronics and Computer Science, Artificial Intelligence, Hyperspectral Imaging and also a qualified Dermatologist, and collectively have the perfect mix of interdisciplinary skills to address complex challenges.
Althexis have developed and deployed a number of their SpectroX Systems to private medical clinics in Greece and a surgical oncology clinic at General University Hospital in Heraklion-Crete and from these trials have received very positive feedback.
Currently (Q4 2020) Althexis is seeking Venture Capital funding in order to scale its business by approaching new clients and developing new features for SpectroX.
Impact
Business growth and scale up
Commercial funding secured
Development of a hybrid hyperspectral + RGB convolutional neural network able to benefit from any kind of available dataset RGB or hyperspectral
References
[1] https://www.skincancer.org/skin-cancer-information/skin-cancer-facts/
[2] https://fed4sae.eu/sae-initiative/archived/hyper-vision-csem/
[3] Intel Movidius VPU (Visual Processing Units)
Authors and Contributors: Intel, CSEM, Digital Catapult, Althexis Solutions Ltd
All images © Althexis Solutions Ltd