Blockchain enabled traceability platform
---
Trusted traceability to improve efficiency for multi-stakeholders development and production of complex systems
Tracing partner contributions in distributed developments
According to Deloitte report from 2018 for the automotive industry there is significant interest in blockchain at the C-suite level, with global investment exceeding $1.7 billion in the last three years. The same report also cites Gartner report on Blockchain Business Value estimating blockchain's business value-add will grow to $176 billion by 2025. The report outlined a number of use cases in the automotive sector that are classified inside three groups. One of them is also a Verification and process improvements group with a purpose to improve vehicle information and usage data across the industry.
Most of current blockchain based solutions request extensive knowledge of distributed ledger technologies by the developers and integrators to deploy applications on the top of them. BETP provided a platform, that will hide all the blockchain complexity and will be blockchain agnostic. BETP goal was to offer a solution on the top of the state-of-the-art technology and bring it closer to the industry.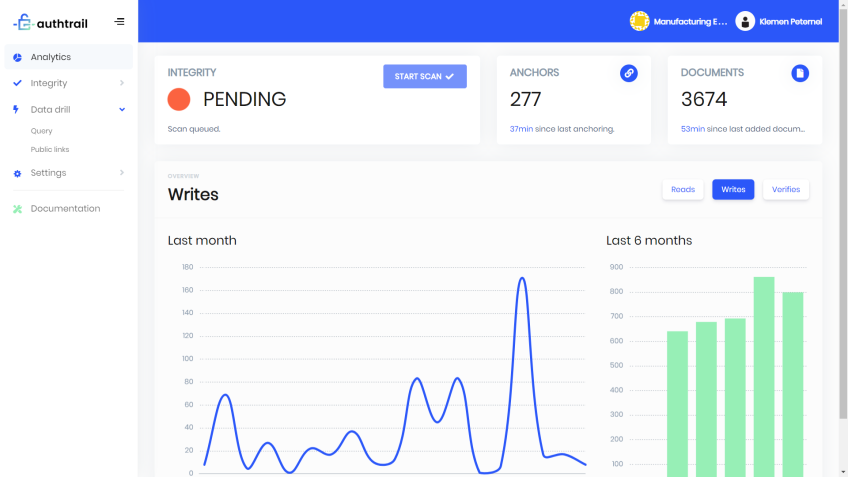 Blockchain for trusted traceability
Traceability is the ability to trace all processes from development, to production, consumption and final disposal. It is highly important for any manufacturer, as it provides the ability to quickly recall products, track production and match replacement parts.
It is very important to establish an environment where all the development activities are tracked in time order and where every dataset is uniquely represented and transparently shared via the network (some latest scandals inside automotive industry only confirm this). That kind of environment will bring trust to all the participants so that everybody is certain that data once written could not be changed anytime in the future.
BETP proposed the development of a blockchain-based traceability platform that would be loosely coupled to AVL's IODP and would provide:
Trust into the system (a faster, safer way to verify key information and establish trust),
Traceability of transactions (track the execution of various operations within the process),
Transparency to B2B ecosystem by offering a solution that could be trusted by everyone involved.
BETP (commercial name AuthTrail) provides users with an immutable and verifiable history of all their application data changes.
BETP is Blockchain driven but also highly scalable and costly effective. The platform will be deployed as a cloud service (SaaS) and will provide a secure layer between customer applications and blockchain. Additional service dashboard will be delivered in order to get instant access to data drilling tools and data verification statistics.
Authtrail as transparent partner communication platform
BETP have exposed three main security considerations:
How to protect platform's interfaces (data access security).
How to protect integrity of the application data (data integrity).
How to protect application data stored inside of the platform (data privacy).
On data access level all the Service and User APIs must be protected via appropriate encryption. All endpoints must have installed valid TLS certificate issued by the renowned authority. Additionally, we must support an option for establishing a secure private connection with the service. On-premise installation should also be considered.
Data integrity stands for the property of the platform that assures complete data immutability. In other words, once data is written to the platform it cannot be changed anytime in the future. We need to provide measures to provide complete data integrity.
Data privacy is about securing raw data for being exposed to another people. The platform must provide a way of encrypting all the raw data before storing it to the journal.
FED4SAE support and opportunity
Through FED4SAE, BETP was able not only to access the leading edge industrial platforms but also the technical expertise provided by the partners.
By working with AVL and fortiss during this project, BETP had access to expertise on system architectures for blockchain across various industries and European ecosystem.
| | |
| --- | --- |
| | Industry 4.0 |
Kalmia d.o.o. offer turn-key solutions in Web&Mobile, Communications and Blockchain – from consulting and architecture to infrastructure and development and also deployment, maintenance and support.
'We are very satisfied by the support of FED4SAE ecosystem and we have benefited a lot from it. It helped us to evaluate the true value of our solution and will help us with further development.'
(Klemen Peternel, CEO of Kalmia d.o.o.)
Impact
Providing full transparency – and thus trust – for large scale cooperative development
The application experiment has led to the development of a stand-alone product: authrail
Already trusted by industry leaders
Company growth
Authors and Contributors: AVL, fortiss, Digital Catapult, Kalmia d.o.o
All images © Kalmia d.o.o