Information
Partner:

STMicroelectronics

Address:
Street RUE JULES HOROWITZ 12
Town GRENOBLE
Postcode 38000
Country France
Webpage:
www.st.com
STMicroelectronics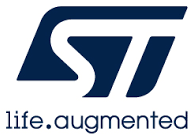 STMicroelectronics is an independent worldwide broad-range semiconductor supplier and it is ranked in the top ten semiconductor companies in the world with a turnover of 6.90 billion USD in 2014. ST has 11 main production sites, 7 Advanced R&D centers and 39 design and application centers, with more than 43000 employees over the world. ST is present in 35 countries with 79 sales offices. From energy management and savings to trust and data security, from healthcare and wellness to smart consumer devices, in the home, car and office, at work and at play, ST is found everywhere microelectronics make a positive and innovative contribution to people's life.
The Company has particular strengths in Multimedia, Power, Connectivity and Sensing technologies and its sales are well balanced among the industry's major sectors and products : Analog, MEMS & Sensors (14 %), Automotive (25 %), Industrial & Power Discrete Products (25 %), Microcontrollers, Memory & Security (24 %), Digital (Includes Imaging Business) (12 %). ST is among the world leaders in many different fields, including semiconductors for industrial applications, inkjet print heads, MEMS (Micro-Electro-Mechanical Systems) for portable and consumer devices, microcontrollers and smartcard chips, automotive integrated circuits, computer peripherals and wireless.
STMicroelectronics draws on a rich pool of chip fabrication technology, including advanced CMOS, mixed-signal, analog and power processes, and is a partner of an international alliance for the development of next-generation CMOS technologies. ST operates a world-wide network of front-end (wafer fabrication) and back-end (assembly, test and packaging) plants. ST's main wafer fabs are presently located in Agrate Brianza and Catania (Italy), Crolles, Rousset and Tours (France), and in Singapore. ST plays a key role in Europe's advanced technology research programs such as H2020, Eureka and ECSEL.
ST-F will push forward its own Silicon & STM32 platforms to explore new eco-systems driven by innovative SMEs and challenging applications, suitable to penetrate new potential markets in the next future.